An AC Replacement Customized For Your Home
Your air conditioner has served you faithfully for years, keeping you and your family comfortable against the blazing Texas heat. But all good things come to an end, and so too will you one day need a home air conditioning replacement. When it's time to install a new, advanced, efficient air conditioning system, you need the experts at CVJ to guide you through the process with honesty and integrity.
It's vitally important to get the right sized air conditioner for your home. Too large a unit will find you wasting money on installation and energy bills. Too small a unit and it won't be able to keep up with your cooling needs. Our experts can survey your home to determine the best options for you, and take you through the pros and cons of each.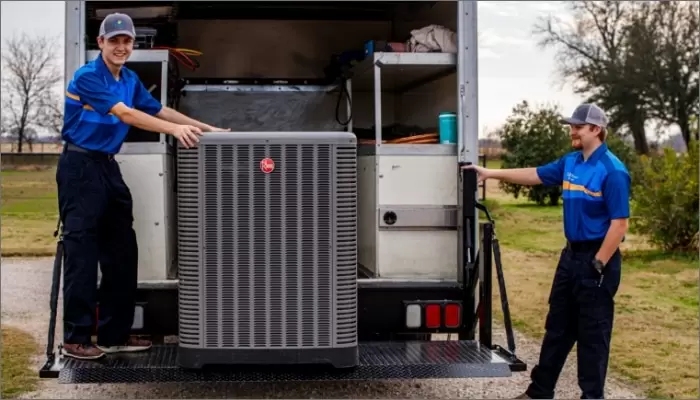 Trusted Brands, Trusted Service
When it comes time for your home air conditioning installation, you want to be sure the equipment you're putting in can do the job. That's why CVJ works with top brands like Rheem, Carrier and Goodman to ensure you're getting a quality system. With luck, this isn't a decision you have to make often, which means in the intervening time technology has improved by leaps and bounds. Our highly-trained experts can bring you up to speed on all the latest innovations to ensure you're getting an air conditioning system that maximizes your comfort and minimizes your long-term costs.
Expert Advice. Impeccable Service. Unshakeable Integrity.
We'd never discourage you from researching a new system online. Educating yourself is never a bad idea. At the same time, our technicians have decades of experience choosing the right air conditioners for each home's unique situation. So we work with you to ensure the unit you install is the kind you need for your home.
In fact, it's possible that the unit you're replacing isn't well-suited to your property. If you've ever noticed:
Your system either constantly running or short cycling.
Unexpectedly high energy bills.
Inconsistent temperature throughout your home.
Excessive indoor humidity.
You always need to schedule repairs.
All of this can mean that your unit is too large or too small. Well, call us Goldilocks, because we'll find you an air conditioning system that is just right.
Choose Quality. Choose Craftsmanship. Choose CVJ.
Since 1993, the people of North Texas - Aubrey, Denton, Prosper and beyond - have trusted CVJ's dependability, integrity and dedication to kind, compassionate service to take care of their air conditioning needs. We guarantee we can make your home more comfortable - and if we don't, we'll make it right. That's our promise. If you're thinking that your home needs an air conditioning replacement, then send us a message online or call 940-251-2941 today!
How long does the typical AC Replacement take in Aubrey, TX?
The length of time required for an AC replacement can vary depending on a number of issues, including the size and complexity of the system, the type of installation, and any unforeseen problems that occur during the installation process.
The removal of the existing unit, which can take several hours, is the first step in an AC replacement. The installation of the new unit follows, which could take several more hours. Any required ductwork alterations, electrical work, or other system upgrades could take more time.
The timing of the installation and the equipment's availability can both affect how long it takes to replace an AC. To obtain an accurate estimate, it is best to speak with a qualified HVAC technician.