Quality AC Repair, Maintenance & Installation In North Texas
Sure, we all need air conditioning here in Texas. Sure, it's a requirement for comfortable living. But just because you need it, should you settle for some run-of-the-mill air conditioning service provider? Of course not! You deserve outstanding service - the exact type of service we pride ourselves on providing at CVJ Heating & Air Conditioning. Our technicians provide stellar AC installation, exacting repair and top-notch after-service maintenance and support.
Since 1993, we've helped our neighbors in areas from Pilot Point to Aubrey to Denton to Prosper and beyond, always working to improve their cooling and comfort through whatever service they need - be it repair, maintenance or replacement. Above all, we believe in offering perfect satisfaction to those who call on us.
Call 940-251-2941 today to find out how we can be perfect for you.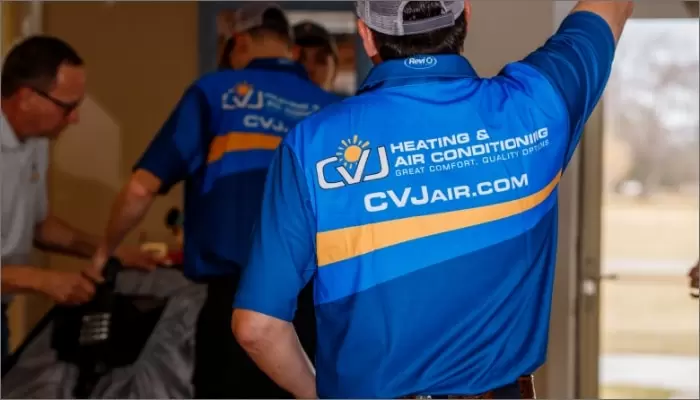 If Your AC Is On The Blink, We're The Only Call You Need To Make
Getting inadequate cooling out of your AC? Loud noises or frequent cycling? Anything else that tells you it isn't working as well as it could? Then give us a call. Our experts will diagnose the issue and provide top-notch repairs to whatever type of system you have. Minor issues you ignore can turn into major problems down the line, so don't wait on repairs if you think something is up with your system.
CVJ's trusted professionals excel at AC repair, and they'll make sure your unit is fixed the right way, the first time.
Gain An Efficient System & Exciting Savings With Air Conditioning Replacement
Every year, new technology comes along that makes air conditioners and heat pumps more energy efficient, environmentally-minded and wallet-friendly. But if you need a new system or are thinking of upgrading, you need an AC service company that knows how to give you what you need. Having the right sized system, expertly installed by trained professionals, can influence about 75% of the outcome of your AC replacement. A shoddy installation can negate all the benefits of your new central AC installation. Don't risk it - bring in the professionals at CVJ.
We will work with you to provide the best AC replacement option for your home, using trusted brands like Rheem, Goodman and Carrier.
Comprehensive Maintenance To Increase Your System's Lifespan
Our Captain's Club membership provides regularly scheduled maintenance visits, so your system can run more efficiently for more time. We can also catch small concerns before they swell to full-blown repairs that will impact your comfort and your bank account. The key to an HVAC unit that lasts it giving it the TLC it needs, and our technicians are experts at taking care of your comfort.
If you're looking to enjoy regular maintenance to give you worry-free peace of mind, you need CVJ.
Your Trusted Local AC Company
Since 1993, CVJ Heating & Air Conditioning has maintained an unyielding commitment to our goals of honesty, integrity, kindness and expert service. You won't find an HVAC contractor more reliable or dependable in North Texas. Tell us how we can bring all of our experience to bear to make you more comfortable by messaging us online or calling 940-251-2941 today!