Expert, Comprehensive Heating Repair Services In Aubrey, TX
When the cold starts creeping in or you're worried about your heating system, CVJ Heating & Air Conditioning is here to help you fight it with professional, thorough heating repair services. With extensive experience with heat pumps and furnaces - along with many other heating systems, our experts diagnose the issue, provide solutions and take action on any heat repairs to ensure your system is back in top working condition. If you've got a broken furnace or think you need heat pump repair, don't delay and give us a call. We can arrive in Denton, Prosper, Krugerville or anywhere else in no time flat to get your heat up and going again.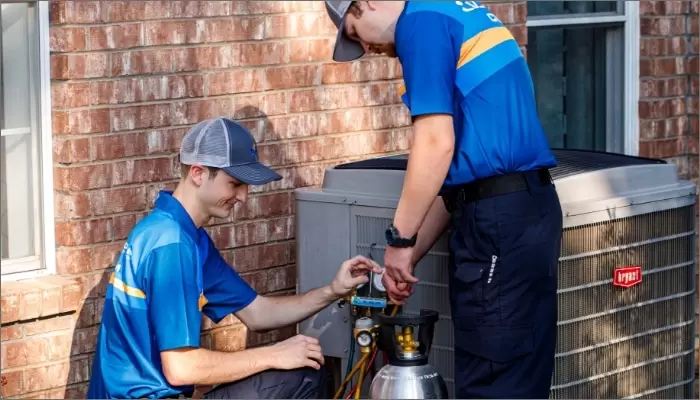 How Do I Know If My Residential Heating System Needs Repair?
The good news is, when a furnace or heat pump isn't doing well, it has no problem telling you about it. There are always signs and hints that something is going on that can give you a jump on getting things fixed. Some things to look out for:
Strange, Loud Noises - Mechanical issues often speak to you in the form of bangs, squeals, rumbles or other sounds. If you notice your heating system has gotten rather mouthy, it's probably trying to clue you in something is wrong.
Low Airflow - Does it seem like it's taking a long time to for your heat to get up to temperature? Or worse yet - does it never seem to get there? Make sure your vents are clear and open (never know when the kids might accidentally flip the switch) but if they're good, there might be a more serious problem at play.
Yellow Pilot Light - The pilot light in your furnace should always be blue. A yellow flame means the oxygen is restricted, which could be the sign of a major issue.
In working on residential heaters since 1993, the techs at CVJ Heating & AC have seen it all. Give us a chance to take a look and we'll get the mystery solved and dealt with before you know it.
How much does it cost to fix a furnace?
An average furnace repair and cleaning costs $310, ranging from $131 to $490. Gas furnaces typically cost more to repair, whereas electric furnaces typically cost less. You probably want to get started on furnace repairs as soon as possible.
Why isn't my furnace turning on?
First, make sure the filter is clean if your furnace won't turn on. Filters that are dirty can prevent the furnace from starting and reduce airflow. Other causes of why it won't start include incorrect thermostat settings, failing to turn on the gas line, and a broken pilot light.
Sometimes Repair Just Isn't Enough
Of course, as good as we are, sometimes a furnace or heat pump's time has just come. You can help to stave that off by taking advantage of our regularly scheduled maintenance, but if that doesn't do it, you can count on us to offer energy-efficient, powerful new systems to replace the one that's burnt out.
CVJ Heating & AC - Committed To Taking Care Of You
We will never leave our customers out in the cold. Since 1993, we've shown the people of North Texas what heating service can look like when it's paired with honesty, integrity and expertise. If you need furnace repair, message us online or give us a call at 940-251-2941 today!