Get Uncompromised Comfort With Air Duct Repair & Replacement
If your ductwork is on the older side, then there's a good chance you would benefit from air duct service. You've spent energy (and money) heating or cooling your air, and it could be escaping through leaks and gaps in your ductwork. Most of your ductwork is hidden away from view, so you might not even know that there's an issue - but you'll definitely notice it on your power bill.
CVJ Heating & Air Conditioning can do a comprehensive inspection of your entire duct system, find the leaks - and get them plugged. We can even make suggestions on how to improve your system for better efficiency. Don't let all that effort spent heating and cooling your air get away! Get everything sealed up and enjoy the comfort you deserve.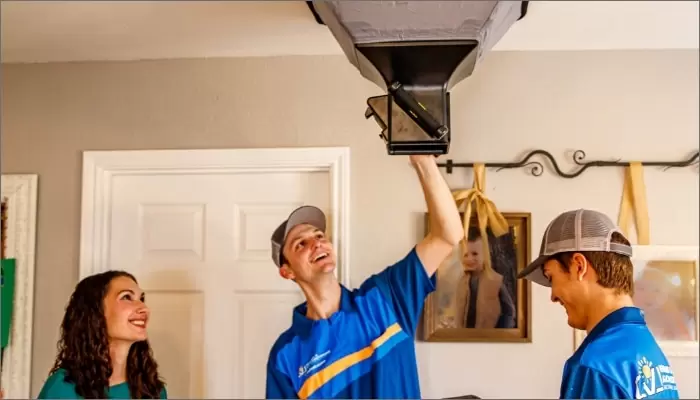 Protect Your Comfort & Your Energy Bill
If you live in Aubrey, Krugerville, Prosper or any of the surrounding areas, then you know it can be quite a battle to keep your home's environment comfortable. Our summers can be blazing hot and more and more we get a deep chill during the winter. Why spend extra money on your power bill when you could be using it to enjoy yourself? That's just one of the many benefits of our thorough air duct service:
Better Comfort - If your warm or cool air is leaking away before it ever enters your home, you miss out on the comfortable home environment you're seeking.
Lower Energy Bills - Keeping your air moving efficiently through your home and not letting it get away will result in less sticker shock on your power bill.
Better Indoor Air Quality - Holes in your ductwork can actually work both ways, letting your conditioned air out while drawing in musty, stale air from your crawlspaces that can pollute your home.
You can lose as much as 30% of your conditioned air if you have duct leaks. That shouldn't be acceptable to anyone. Keep an eye out for these signs your ducts could use a thorough repair:
Inconsistent temperatures throughout your home.
Kinks or tangles in visible ductwork.
Stuffy rooms that feel like they have dirty air.
Unexpectedly high energy bills, especially in the hottest and coldest months.
Our Experts? Committed. Your Air Ducts? Sealed.
CVJ Heating & Air Conditioning has been serving the people of North Texas since 1993, and nothing makes us happier than knowing we've been able to improve their comfort while also saving them money. Our air duct service does both. If you suspect your comfort might be leaking away, send us a message online or call 940-251-2941 today!