Heating, AC & Air Quality Systems Near Aubrey, TX
CVJ Heating & Air Conditioning wants the North Texas area to have access to top quality HVAC and indoor air quality product options. We provide systems from top brands such as Goodman and Rheem as well as other brands upon request.
Installations and replacement options are a large part of your satisfaction with your new system, so let us help you out with a heating system installation, air conditioning system replacement or air quality products installation that will make manufacturer promises come true.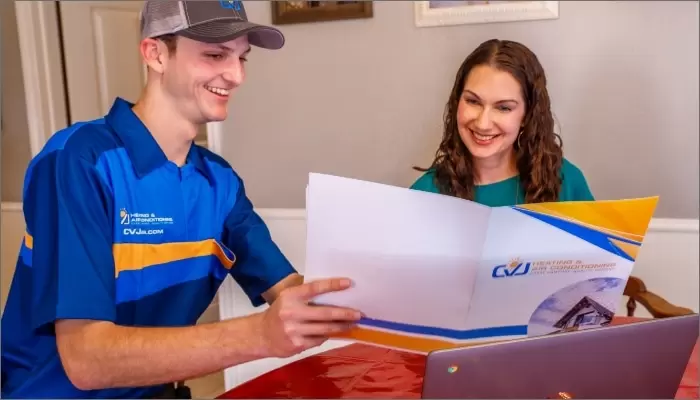 HVAC Products
Achieve the perfect warm or cool and functionality with our selection of HVAC equipment:
Air Conditioners - We offer the top name brand AC units. We believe that our customers should be able to find satisfaction with their cooling for many years down the road.
Ductless Mini Splits - Mini splits are great for heating and cooling a specific room or area. Here at CVJ, we offer the top brands so you don't have to worry about their performance!
Heat Pumps - Our selection of top name brand heat pumps are built for long-term use all year.
Air Handlers - Increase your home's air circulation with an air handler. Our air handlers are high-quality and have the longest lifespans in the industry with proper care.
Indoor Air Quality Products
Indoor air quality is very important for the wellbeing of you and your family. Because of the confined space of a home, when your home's air quality is not tended to, it's very likely that it carries a lot of particles which can cause allergies and illnesses. Get the cleanest indoor air quality for your Denton County home.
Some of our air quality products include:
Air Purifiers
Air & Furnace Cleaners
Media Air Cleaners
Electronic Air Cleaners
Rely on CVJ For Professional HVAC & Air Quality Products
Don't see a product that you need? Just contact CVJ and ask! Working with us to get your new HVAC system or product has many benefits:
Exceptional customer service.
High-quality products.
Expert knowledge.
Fast, efficient service.
If you are interested in learning more about our products and services, please give us a call today at 940-251-2941 to speak with a certified technician.