Heating, Air Conditioning & More To Guarantee Your Comfort
Home is a place of rest. Relaxation. A retreat from the daily rat race that consumes so much of our lives. The last thing anyone wants to do is come home to find themselves living in a sauna or an icebox.
Since 1993, our driving mission at CJV Heating & Air Conditioning has been providing that level of comfort to our neighbors here in North Texas. Everything we do is focused on that goal. When it comes to keeping your home the comfortable oasis you deserve, there's no one better. Call us at 940-251-2941 today!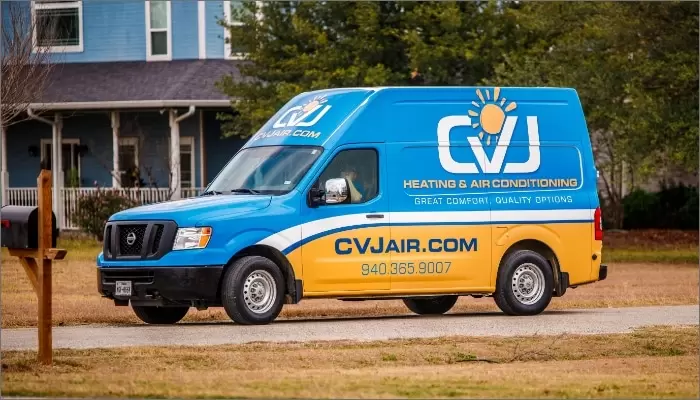 Texas is known for its sweltering summers. The highly-trained technicians at CVJ have all the tools needed to help you beat the heat. Our services include:
AC Repair - Expert diagnosis combined with exacting repair. We'll find out what's wrong, then we make it right. Simple and stress-free for you.
AC Maintenance - Want to make sure your system is always ready? Either through individual appointments or as part of our Captain's Club, we'll give your AC the TLC is needs.
AC Replacement - Is your air conditioner finally ready to give up the ghost? Take advantage by installing a new energy-efficient system specifically chosen to work for your home.
Don't let your family suffer through a deep freeze. When old man Winter comes calling, our services can provide a perfect bubble of toasty comfort for your home. We take care of:
Heating Repair - Find yourself living in a freezer instead of a home? CVJ's experts in furnace repair will get the problem fixed and the warm air blowing again.
Heating Maintenance -  Don't take a chance your system goes out right when you need it most. Regular maintenance, including through our Captain's Club, can fix minor issues before they're major headaches.
Heating Replacement - If your system has reached the end of its lifespan, it's time to upgrade to a state-of-the-art system with increased efficiency and reduced energy costs.
Have you seen an unexpected spike in your energy bills? It could mean your ductwork is letting all of your HVAC system's hard work escape through damage or leaks. Let us survey your ductwork to identify any leaks and get them patched up so you don't lose out (or pay more) ever again.
It may seem hard to believe - but the air inside your home can actually be a great deal more polluted than what's outside. Pet dander, dust, VOCs and other airborne contaminants can create an unhealthy environment for your family. Our wide range of air quality products can help screen out pollutants, providing clean, crisp air that helps you breathe easier.
For Your Home's Comfort, CVJ Has Your Back
From the moment of our founding, our commitment has been to quality service, compassionate care and unyielding comfort for our customers. You can depend on CVJ Heating & Air Conditioning to live up to that commitment, every single time. If you need help with your HVAC system, message us online or call 940-251-2941 today!