Heating Service, Tune-Ups & Maintenance - We're The Pros In Aubrey, TX
Did you know that it's estimated that up to 50% of heating repair calls could be avoided by having regular maintenance? Plus, the benefits don't stop there. Regular service is the single most important thing you can do for your system if you want to fully enjoy your existing equipment. You take care of it, it will take care of you. We're here to take care of both.
Don't pass up the chance to keep your system in good shape and to catch minor issues before they turn catastrophic. You can get your full money's worth on your furnace and heat pump with comprehensive maintenance performed by CVJ Heating & AC, serving Denton, Pilot Point, Navo and neighborhoods all around North Texas.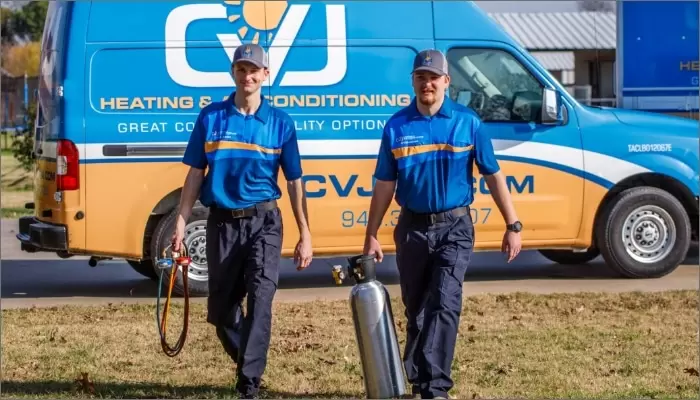 What Are The Benefits Of Regular Maintenance?
How much time do you have? You wouldn't drive your car for thousands of miles without changing the oil or checking the brakes. You can't afford to wait for something to break down. Why don't people apply this same mentality to their HVAC systems? The concept works the same. Take care of your car, you'll be driving it for a good long time. Take care of your furnace, and you'll stay warm through the current winter and many more to come.
Some of the benefits of regular heating maintenance include:
Energy Savings - A neglected unit will expend more energy as it works harder than necessary to maintain the desired temperature.
Improved Comfort - A variety of unaddressed problems can cause the quality of your heating to decline.
Longer Lifespan - You don't want to have to replace your furnace before you absolutely have to - it's quite an expense that you could use for other things. Stave off that time by taking care of the system you've got.
Improved Safety - For furnaces in particular, safety is a large concern for your system if it hasn't been serviced recently. Keep your home and your family safe.
Lower Repair Costs - Don't throw money away fixing big problems when you can proactively take care of minor issues.
Better Reliability - Enjoy peace of mind - and toasty comfort - knowing your heating system is dependable.
Be Proactive Now So You Aren't Sorry Later
With our Captain's Club, for one low price you can make sure your system is is well taken care of and avoid the additional expenses that repair or replacement would entail. It's the best way to take all the worry out of your heating service so all you have to do is sit back and enjoy the warmth.
CVJ Heating & Air Conditioning. Taking Care Of You Since 1993.
There are lots of advantages to regular maintenance on your furnace or heat pump - but there are just as many advantages to working with CVJ Heating & AC. You get a company that's been trusted for decades to serve the people of North Texas with honesty, integrity and a commitment to the best service possible. You get technicians who are constantly learning and training on all of the newest equipment and techniques. You get the peace of mind of knowing when you need your heat, it will be there. To start your maintenance plan, message us online or call us at 940-251-2941 today!
How often should a heating system be serviced near Aubrey, TX?
Heating systems should ideally be serviced annually. Regular maintenance helps ensure the system operates efficiently, reducing energy costs and extending its lifespan. During servicing, a professional technician can clean and inspect key components, identify and address potential issues, and replace worn parts, enhancing safety and preventing breakdowns. However, some systems, like newer models or heat pumps, may require less frequent servicing, while older or heavily used systems may benefit from more frequent checks. Consulting the manufacturer's recommendations and considering the system's age and usage can help determine the appropriate service schedule.