Professional Heating Repair, Maintenance & Installation In North Texas
In recent times, our winters have gone from cool crisp air to semi-regular blizzards. When those wintry winds blow in, you don't want to run the risk of not having a stable bubble of heat around your home to keep them out. Staying that comfortable becomes a lot easier when you've got CVJ Heating & Air Conditioning on your side. Our highly-trained and skilled professionals can install a new furnace, maintain the one you've got and fix it if something goes sideways.
We've been in business since 1993, and we've last this long by taking care of our neighbors in Denton, Krugerville, Prosper and the surrounding areas as if they were members of our own family. Whether you need heating repair, replacement or maintenance, CVJ is committed to keeping your home warm and inviting no matter how far the mercury drops.
Give us a call today at 940-251-2941 and let us know how we can serve you.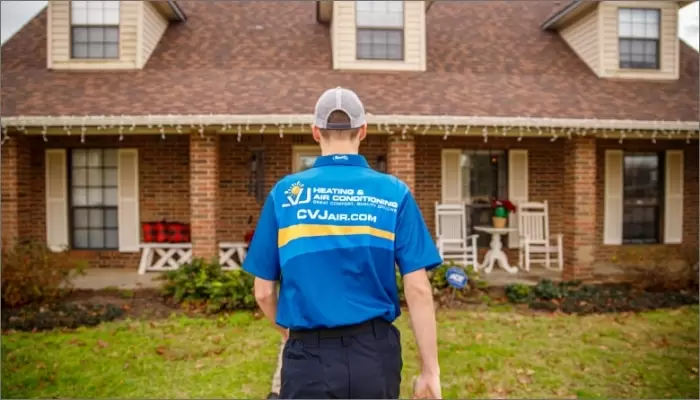 When Your Heat Goes Out, Call Us First
There's nothing worse than finding out your furnace has gone out right as you start to see single digits on the weather forecast. When you need professional, expert heating repair, CVJ is the answer. Our skilled technicians come equipped to handle any job, so you don't have to wait for parts to arrive to get your heat on and blowing again. Whatever the repair, we'll explain what's wrong, provide you with the best options to fix it and then do the job with competence and courtesy.
Our team is all you need for heating repair, and we'll ensure the heat stays in and the cold stays out.
Time To Upgrade? Empower Your Home With A New Heating System
The temperatures might get colder, but heating technology continues to heat up against it. Today's systems are the most energy-efficient ever made, giving you consistent, comforting heat while keeping your power bills down through the winter months. But it only works best if it's right for your home, and that's where we come in. Our professionals can survey your property, determine what type of system will work best and install it to best take advantage of your home's architecture to provide even warmth at a low cost. Don't let just anyone put in your new system; trust a team that's committed to doing right by our customers every time. Trust CVJ.
CVJ Heating & AC is happy to educate you on the best heating replacement options out there, and once you're ready to go, we'll install with the utmost care and courtesy.
Ensure Your Heater Is Ready To Go With A Little CVJ TLC
The best way to get the most out of your heater is to give it the maintenance it requires to operate at peak efficiency and to avoid major breakdowns. CVJ Heating & AC is committed to making sure you never have to call us for repair by offering our Captain's Club - scheduled service aimed at nipping small issues in the bud before they become major headaches.
Proper maintenance can help your residential heating system run for years to come. Don't ignore its importance.
Stay Warm With Service You Can Trust
CVJ Heating & Air Conditioning has done nothing but take care of our customer's comfort since our founding in 1993. In all that time, we've focused on honesty, integrity and thorough knowledge so we can bring our customers the right solutions, at the right price, done the right way. If you need help with your heating, message us online or call 940-251-2941 today!