North Texas Deserves The Best Heating Replacement & Installation
Protect yourself against the winter and enjoy endless comfort with a new, reliable heating system from CVJ Heating & Air Conditioning. If your old system just is not cutting it, you need a brand new Heat Pump Or Furnace that will keep your home and family warm. We offer systems from highly regarded brands such as Rheem, Carrier and Goodman, but amazing products aren't all we have to offer. At CVJ Heating & AC, we're concerned with so much more - a commitment to quality of our service that keeps you telling your friends and family about CVJ, the best heating and air conditioning company around.
Our heating system installation experts will make sure your system is right for your home, and performs as well as intended while guaranteeing you'll be happy with our work. No matter if you're in Aubrey, Tioga, Pilot Point or anywhere in the area, we are there to provide just what you need with care, skill and kindness.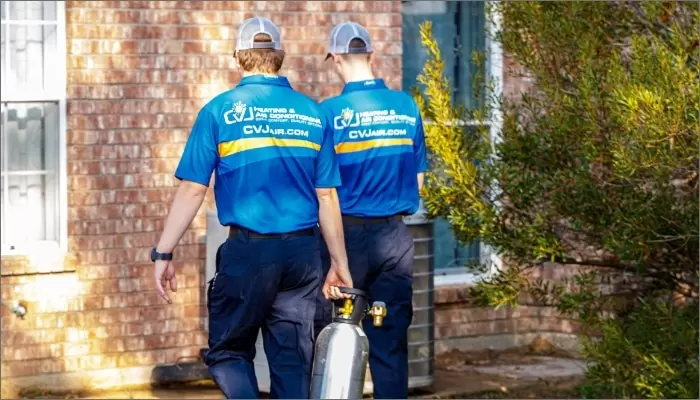 The Right Heating System For Your Home Is Key
Heat pump or furnace? Goodman or Carrier? Do you need the highest efficiency rating?
There are lots of question to consider when looking for a new heater, and CVJ Heating AC can help you answer them. A lot of what is best for you can depend on what you currently have. For instance, if you just put in a new air conditioner, than a heat pump might not be for you as it's built to do both jobs.
There are a few other considerations to keep in mind when shopping for your next system:
Efficiency Rating
Expected Lifespan
Fuel Source
Available Warranties
Ambient Noise Level
Our professional team will help you sort through these concerns to land on the unit that's perfect for you.
Proper Installation Now, Fewer Issues Later
When putting a new heating system in, it's important it's done right. Otherwise, you can wind up with issues right from the jump. That's why CVJ Heating & AC guarantees the work that we do and will make things right if they've gone wrong. We wind up fixing a lot of incorrect installation jobs from other contractors, so even if we didn't install your system, we'll be happy to get it working. If you're in need of repair or scheduled maintenance - we can take care of that, too. In the end, our goal is to keep you warm, cozy and comfortable.
Is it worth replacing a 20-year-old furnace?
Whether it is worth replacing a 20-year-old furnace depends on several factors. If the furnace is functioning well and efficiently, it may not need to be replaced. However, if the furnace is experiencing frequent breakdowns, losing efficiency, or having difficulty heating your home, replacement may be worth considering. Also, older furnaces are often less efficient and can result in higher energy bills, so upgrading to a newer, more efficient model can save you money in the long run. Additionally, newer furnaces often come with advanced features and improved comfort control. A licensed HVAC professional can provide a personalized assessment and recommend the best course of action for your specific situation.
How much does a new HVAC system cost?
The average cost of a new HVAC system across the country can be between $5,000 and $10,000 or more, but it can easily exceed $15,000 or more for larger homes or installations that are more difficult. It's always advisable to get several quotes from licensed HVAC professionals to compare prices and find the best option for your needs and budget. Investing in a high-quality HVAC system can provide improved comfort and energy efficiency, as well as long-term savings on energy bills.
What is the typical lifespan of a furnace in Texas?
The typical lifespan of a furnace in Texas is around 15-20 years, depending on various factors such as the type of furnace, the manufacturer, the quality of installation and maintenance, and the frequency of use. Furnaces that are well-maintained and serviced regularly are likely to last longer than those that are neglected. Climate can also play a role in the lifespan of a furnace, with more extreme temperatures leading to greater wear and tear. In Texas, it is important to have a reliable and efficient furnace due to the hot summers and occasional cold snaps. Regular maintenance and prompt repairs can help extend the life of your furnace and ensure that it operates efficiently and effectively.
North Texas Trusts Us For Heating Replacement - You Should Too
We take pride in knowing we have provided honest service and compassionate care to our local community since 1993. With free quotes on new systems, discounts for our Captain's Club customers and technicians who know these systems inside and out, we do everything we can to exceed your expectations. If you're looking for a new furnace or new heat pump for your home, send us a message online or call us at 940-251-2941 today!