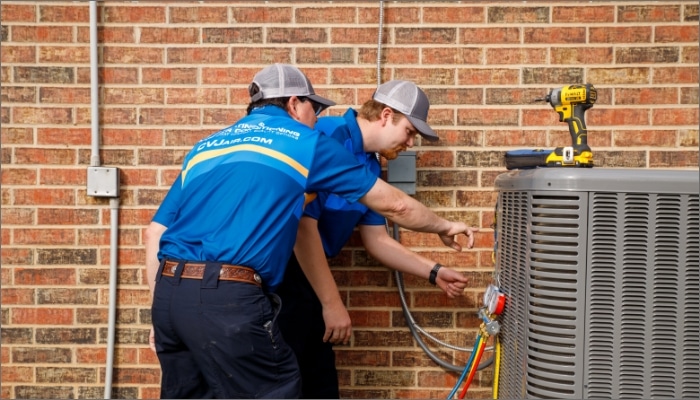 Why Fall Maintenance Is Crucial For Your Aubrey, TX, Home Heating System
After a long, hot summer in the Aubrey, TX, area, your home's heating system may be the last thing on your mind. While you can always bet on the Texas heat, local homeowners know that fall weather is unpredictable at best. That's why CVJ Heating & Air Conditioning recommends preparing for cooler temperatures early to increase heating system efficiency in fall weather. 
The Importance Of Fall Maintenance
When it's time to switch off the AC and switch short sleeves for sweaters, you may find that your home's heater doesn't run the way it did last year. After collecting dust and debris through the summer, it's important to check that your heater is in good condition and take care of any repairs or parts replacements. That's where preventative fall maintenance comes in!
Maintenance is all about giving your heating system a little TLC before you need it most. The last thing you want to deal with is a heating breakdown when you are trying to cozy up inside. Having your equipment inspected from top to bottom, inside and out will let you know what state it's in and give you plenty of time to schedule professional service if needed. Any issues with your heater are much more manageable and affordable to repair when they are caught early on. 
Preventative services also help you save! A well-maintained system runs more efficiently and wastes less energy so you don't pay an arm and a leg to stay comfortable. CVJ knows how important it is to cut costs without compromising. Our expert team is here to help with tips to improve heating system efficiency in fall and stay warm.
Tip 1: Schedule Professional Fall Maintenance
Our number one recommendation for upgrading your heating system efficiency in fall is to schedule professional heating maintenance. An experienced HVAC technician will have the proper equipment and a trained eye to safely inspect every component. Some heating parts pose a hazard when handled improperly, so it's important to allow a technician to handle internal equipment inspections. 
Fall heating maintenance includes a thorough inspection and cleaning, air filter change, refrigerant or carbon monoxide level check, lubrication of moving parts and more. Signing up for a scheduled maintenance plan like CVJ's Captain's Club is an easy way to ensure priority service, peace of mind and a professional stamp of approval for your system. 
Professional maintenance also offers a convenient and time-saving solution for homeowners. If your technician notices any issues, they may be able to make same-day repairs. If they have to return to make repairs, you won't have to worry about calling to schedule service; they will handle it for you right then and there.
Tip 2: Replace Or Clean Air Filters
On average, you should change air filters every 90 days. You might want to change them more frequently if you have pets or live with anyone who suffers from allergies, asthma or other respiratory conditions. Checking filters regularly and cleaning off dust and debris will help them last as long as possible.
Replacing filters regularly reduces your heating system's workload and improves indoor air quality. The less your equipment has to fight against buildup, the more efficiently it will run and the better the airflow will be throughout your home.
Tip 3: Seal Leaks And Insulate
Leaky windows, doors, and insufficient insulation can cause heat loss in your home, making your heating system work harder to maintain a comfortable temperature. Seal any gaps or cracks in windows and doors, and consider adding insulation in areas that may be lacking, such as the attic or basement.
There are many ways to identify drafty areas in your home, such as holding a candle up to a suspect area like a window or door. If the flame flickers, you've found a draft. Weatherstripping, foam tape, thermal drapes and window film are all great DIY solutions for sealing cracks and gaps. If you are in a pinch, placing towels under doors and against windows can lessen the cold air coming through. 
Tip 4: Upgrade To A Programmable Thermostat
Investing in a programmable thermostat can be a game-changer when it comes to efficiency. You can program it to lower the temperature when you're not at home or while you're sleeping, and have it warm up your home before you return or wake up.
You can also control smart thermostats right from your phone or tablet. Manage energy usage, adjust temperatures and oversee comfort from wherever you are. The less you have to get up and mess with the thermostat, the more you can save.
Tip 5: Consider Zoning Systems
Zoning systems allow you to control the temperature in different areas of your home independently. If you have rooms that are rarely used, you can reduce heating in those areas, optimizing energy usage and reducing costs.
Zoning control also decreases wear and tear on your HVAC system by not having to move air through your entire home at all times. With customized heating and cooling, you can take charge of your home's comfort and increase efficiency.
Tip 6: Check And Clean Vents Or Ducts
Blocked or dirty vents and ducts can impede airflow and force your heating system to work harder. Ensure that all vents are open and unobstructed, and consider having your ducts professionally cleaned to improve efficiency.
Dirty ducts and air vents can also worsen indoor air quality. Any dust and debris buildup will get distributed throughout your home, worsening allergies and asthma symptoms. Keeping ducts and vents clean and clear will take a load off your HVAC system and improve overall comfort. 
Tip 7: Invest In Energy-Efficient Upgrades
If your heating system is outdated, upgrading to a more energy-efficient model can provide long-term benefits. Modern systems are designed to be more environmentally friendly and cost-effective, reducing your energy bills in the process.
On average: 
Heat pumps should be replaced after 10 years. 

Furnaces and boilers should be replaced after 15 years.
Upgrading to an energy-efficient heat pump or a newer furnace model will enhance performance and provide reliable comfort all season long. 
Enjoy A Warm And Efficient Home This Fall With CVJ!
Managing your home's comfort is a year-round task, but you don't have to do it alone! The experts at CVJ are always here to answer questions, provide guidance and get you on the schedule for seasonal services that help you have a cozy fall.
Follow the tips above and be sure to reach out to our team for preventative heating services, repairs and replacements that keep your system efficient and help you save. Contact our team online or call 940-251-2941 today!