AC Maintenance To Keep Your System Going & Your Home Cool
It takes regular dental appointments to take care of your teeth. It takes regular oil changes to keep your car running. Why would you think your air conditioning system would chug along without a little TLC?
The benefits of AC maintenance have been proven time and time again. When you choose our team, an expert AC technician arrives with a comprehensive air conditioner maintenance checklist. We leave no stone unturned to ensure your equipment is running properly and ready for any weather.
With regular tune-ups from CVJ Heating & Air Conditioning, you can enjoy better cooling for longer. Call us today to work with a trusted local company that puts honesty and integrity at the forefront of everything we do!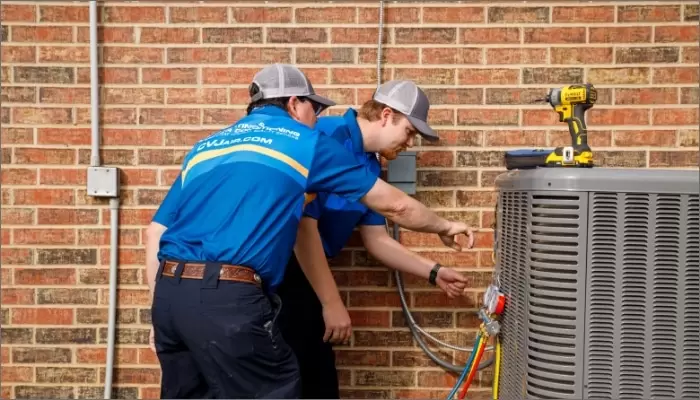 The Importance Of Air Conditioning Tune-Ups
You may think that if your AC is running fine, it doesn't need to be serviced. Even when you don't notice any obvious problems, there may be trouble brewing. Seasonal AC maintenance is designed to catch small problems before they turn into a big headache.
We recommend scheduling service in the early spring to give plenty of time for any repairs or replacements before summer. Your AC expert will perform a comprehensive inspection and cleaning of the air conditioner to make sure everything is running at peak performance. They will clean or change filters and check refrigerant levels for safe and reliable cooling.
What To Consider When Choosing An AC Tune-Up Provider
Finding the right service provider for your AC tune-up is as important as actually scheduling. As a homeowner, you want to work with someone you can trust to provide safe and effective service.
Factors to consider when choosing a company:
Experience and expertise of the technicians
Maintenance plans with annual or bi-annual service
Warranties and guarantees on parts and/or labor
Local reviews, reputation and quality customer service
What Are The Advantages Of Regular Air Conditioning Maintenance?
With regular HVAC preventative maintenance, you can enjoy:
A Reduced Energy Bill - Malfunctioning AC equipment can be pricey, even when the system is still running. In fact, just because you're able to cool your home every day doesn't mean there aren't hidden problems putting a strain on your system. An AC tune-up will correct even the smallest issues that are costing you extra.
Fewer Major Repairs - Waking up to or coming home to a hot house is one of the most unpleasant experiences you can have. Not only is every occupant of your home uncomfortable, but serious AC repairs aren't cheap. Cut out the uncertainty and the added financial strain with simple maintenance visits instead.
A Longer Lasting System - An air conditioner tune-up, expertly performed, can keep your air conditioning system running longer while not diminishing the quality of its performance.
Better Cooling - It seems like this should go without saying, but the more care your air conditioner receives, the better it can do its job of keeping your home shielded against blazing Texas summers.
Improved Air Quality - When your AC is working properly, it can help you avoid excess dust throughout your home. Keeping the equipment regularly serviced can improve indoor air quality so you breathe easier.
The Risks Of DIY Maintenance & Tune-Ups
For your safety, you shouldn't attempt to maintain or tune up your own air conditioner. Your AC is composed of electrical and chemical components that can be dangerous when they aren't handled properly.
Without the proper tools and training, DIY maintenance can damage the AC and interrupt your cooling. Working on the AC yourself may also void any manufacturer's warranty. Preventative service should always be handled by a professional to protect you, your home, and your AC.
There are a few steps you can take regularly to keep your system running properly, like cleaning the filters when needed, keeping the unit clear of obstructions and cleaning off dust and debris as needed. Internal component checks should be left to a technician.
Sign Up For An HVAC Service Agreement Today
At CVJ, our goal is to be your partner in comfort. We value our customer relationships and enjoy being North Texas' most trusted AC expert. But that's not all we can offer. Join the Captain's Club HVAC maintenance plan today to enjoy regularly scheduled service and savings! Our technicians will check AC unit components and central air components for proper performance, refrigerant levels and more so you stay cool all summer long.
Since 1993, we've treated our customers like family, holding to the highest standards of integrity, honesty and quality. Relationships matter to us. Our expertise matters to you. To get the most out of your air conditioner, send us a message online or call 940-251-2941 today!
What maintenance does a home AC unit need?
Regular maintenance is crucial for keeping a home AC unit functioning efficiently. Several tasks are essential for its upkeep. Begin by regularly replacing or cleaning the air filter to maintain proper airflow and prevent strain on the system. Clear debris and vegetation around the outdoor unit to ensure unrestricted airflow. Check the condensate drain for clogs to prevent water damage. Inspect the evaporator and condenser coils, cleaning them if they become dirty. Lubricate moving parts, like motors and fans, to reduce friction and wear. Ensuring that electrical connections are tight and inspecting for refrigerant leaks are also important. Scheduling annual professional maintenance, including thorough inspections and tune-ups, can optimize your AC unit's performance and extend its lifespan.