AC Maintenance To Keep Your System Going & Your Home Cool
It takes regular dental appointments to take care of your teeth. It takes regular oil changes to keep your car running. Why would you think your air conditioner would chug along without a little TLC? The benefits of air conditioning preventative maintenance have been proven time and time again. With regular AC tune-ups, you can enjoy better cooling, and for longer. Choose CVJ Heating & Air Conditioning for your maintenance needs, and you can immeasurably increase those benefits by working with a trusted local company that puts honesty and integrity at the forefront of everything we do.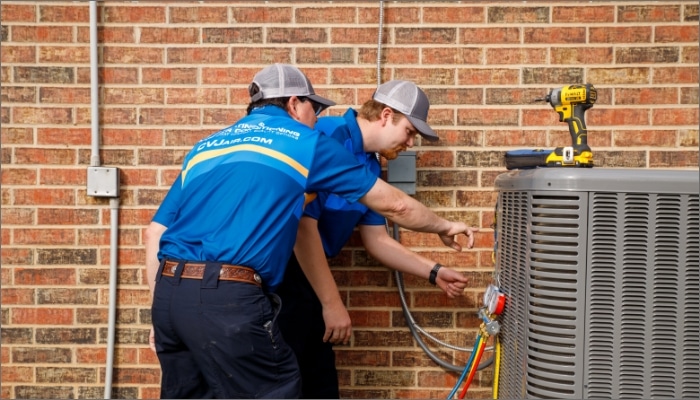 Get Ahead Of The Game
Do you like to save money? Do you enjoy quality comfort? Do you hate unexpected breakdowns? We're going to assume the answer to all three is yes. If more people knew how beneficial AC maintenance could be, everyone would be signing up!
At CVJ, it's important for us to educate our customers so they can get the most advantage and life out of their air conditioning systems. It may seem counterintuitive, but if we're doing our jobs well, you shouldn't have to call us. Whether you're in Aubrey, Denton, Pilot Point or beyond, our Captain's Club maintenance plan guarantees regular, scheduled maintenance to prevent major repairs and to keep you system running through its entire lifespan - and maybe even a little beyond.
What Are The Advantages Of Regular Air Conditioning Maintenance?
With regular AC service, you can expect to enjoy:
A Reduced Energy Bill - Malfunctioning AC equipment can be pricey, even when the system is still running. In fact, just because you're able to cool your home every day doesn't mean there aren't hidden problems putting a strain on your system. A tune-up will correct even the smallest issues that are costing you extra.
Fewer Major Repairs - Waking up to or coming home to a hot house is one of the most unpleasant experiences you can have. Not only is every occupant of your home uncomfortable, but serious AC repairs aren't cheap. Cut out the uncertainty and the added financial strain with simple maintenance visits instead.
A Longer Lasting System - Regular maintenance, expertly performed, can keep your air conditioning system running longer while not diminishing the quality of its performance.
Better Cooling - It seems like this should go without saying, but the more care your air conditioner receives, the better it can do its job of keeping your home shielded against blazing Texas summers.
Sign Up For An HVAC Service Agreement Today
At CVJ, our goal is to be your partner in comfort. We value our customer relationships and enjoy being North Texas' most trusted AC expert. But that's not all we can offer. Since 1993, we've treated our customers like family, holding to the highest standards of integrity, honesty and quality. Relationships matter to us. Our expertise matters to you. To get the most out of your air conditioner, send us a message online or call 940-251-2941 today!